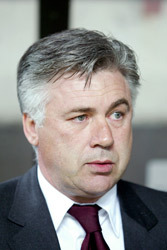 Newcastle face Tottenham in the Premiership tonight, live on Setanta at 20:00. Click here for latest odds!
A 1-0 home defeat to Empoli continued Milan's poor start to the season and left the European champions Milan still looking for their first home win of the campaign.
A second-half goal by Luca Saudati gave the Tuscan outfit a surprise victory at the San Siro.
After eight games Milan are 11th with 10 points, ten behind leaders Inter, who beat Reggina 1-0 on Saturday.
Juventus climbed to second with 17 points thanks to a 1-0 win over Genoa in Turin, with captain Alessandro Del Piero securing the points when he tucked away a cross from Pavel Nedved.
Milan coach Carlo Ancelotti admitted that his side was struggling against sides coming to the San Siro with the clear intention of defending.
"The championship is still long, but we have not done well enough at home. Three points from four games is a negative record," Ancelotti told Sky television.
"This is a team with two faces. We are playing well and earning good results away but we are not playing as well at home when we have no space to play our best football against defensive sides," Ancelotti said.
"The problem is that in tight spaces we don't move quickly and well enough to create chances. The forwards cannot do much when the team plays so slowly. However it's not a physical problem because I think we are in good form."
Captain Paolo Maldini making his first appearance for Milan since May's Champions League final after recovering from knee surgery, conceded that the team had not played well.
"We didn't play well," the 39-year-old defender said. "We probably didn't deserve to lose but certainly we didn't play well. There's no point now in looking for explanations or excuses. We just need to think about the next game which is quite an important one."
Before kick-off Brazilian goalkeeper Dida did a tour of the stadium bowing to fans, apparently to apologise for the incident at Celtic that cost him a two-match Champions League ban.
After losing against Celtic three weeks ago in the Champions League, Milan will be looking to get their European campaign back on track when they host Shakhtar Donetsk on Wednesday.

Newcastle face Tottenham in the Premiership tonight, live on Setanta at 20:00. Click here for latest odds!