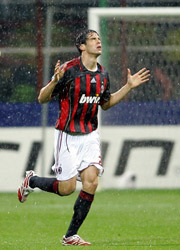 Milan have again stressed that Kaka will not be sold to Real Madrid in the summer, despite the player's father holding informal talks with the Spanish club.
Rossoneri vice-president Adriano Galliani is aware of the meeting between the player's father and Real, but is not concerned by the matter.
"We can confirm we will not sell Kaka, but we knew about this meeting because we were already informed of it by Kaka's father," Galliani told the club's official website.
"Kaka is certainly not for sale, but this offer is born out of the different fiscal constraints between Italy and Spain which give an advantage to the top Spanish sides compared to the top Italian clubs."