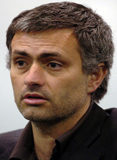 Chelsea manager Jose Mourinho has apologised for being arrogant since he was appointed at Stamford Bridge.
Mourinho also admitted he was shocked at the reaction he got from the media after he quit Champions League winners Porto for Stamford Bridge.
He had not expected the English media to react to him as a relative novice after his record at Porto.
"I was not prepared for that. For me it was an incredible surprise,2 he said in an interview with FHM. "I was the European champion on May 24, I came here on the 26th or the 27th and the media were doubting me!
"I couldn't believe it! In Portugal every foreign manager or player, if he is just a little good, we make him God! I was stunned so I'm sorry if I seemed arrogant but I don't think I was arrogant."
Mourinho also admitted that he feels compelled to reproduce last season's success to silence the media.
"And from that point it was a big challenge because if I didn't succeed like I did in the first year these guys were all waiting for me."