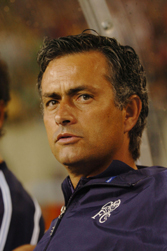 Chelsea manager Jose Mourinho has insisted that he will never emulate Arsène Wenger's and select a squad that contains no English players.
The Portuguese coach said he believed it was important to nurture local talent for the good of his club and that he felt a responsibility to the England team now that he works in the country.
The former Porto boss made the comments in response to Arsene Wenger's decision to field an all-foreign Arsenal squad against Crystal Palace on Monday evening.
"We have three or four home players involved in every domestic match," Mourinho said. "I really believe in home players.
"As a foreign manager, I feel responsible for the English clubs and the English national team.
"I would never forget that and the future of youth football at the club.
"The supporters fall in love with players they feel are the club, but I don't think you need to be made in the club to be part of the club.
"I don't think Chelsea supporters have any doubt that Claude Makelele doesn't want to win for Chelsea.
"But it helps having English players. I want to have the best young players in England.
"You have to show young kids and their parents that they have a chance to succeed at this club."
Mourinho also had time to make a dig at his Barcelona counterpart, Frank Rijkaard, by stating that he has been more successful as a manager.
Chelsea face Barcelona in the UEFA Champions League tie, with the first leg at Camp Nou next week.
"Frank Rijkaard's history as a player can't be compared with my history, as his is fantastic and mine is zero," stated Mourinho.
"As a manager though, my history cannot be compared to his. He has zero titles and I have a lot of them.
"First of all, I have to defend what is mine and the Champions League is mine at the moment.
"I'm the last manager to have won it, so it's my competition. I have to fight for Chelsea and for myself, to defend my cup until the last moment.
"Maybe it's because I won the Champions League that I had a big turn in my life and I could come to a big football country like England.
"So the Champions League means a lot to me, it's something unforgettable and something that I want to repeat."