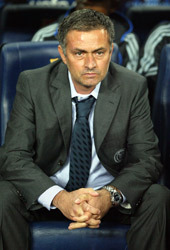 Help us with a Sport and Betting Survey! Click here to take part now.
Chelsea manager Jose Mourinho has accused Manchester United winger Cristiano Ronaldo of being a liar.
Ronaldo, 22, had claimed that Mourinho "does not know how to admit his own failures" after the former Porto boss's comments on penalties.
"The whole world knows what Mourinho is like," said Ronaldo.
"He always has to say something to gain attention, especially when he is not happy with his own players' performances. He never recognises when he is wrong."
But Mourinho retorted: "A player who wants to be the best in the world – who can be the best and perhaps is the best already – has to have sufficient honesty and maturity not to argue against the facts," he said.
"If Ronaldo says it is a lie penalties were not given against United, then he is lying.
"He needs to see he cannot fight with facts. If he is a liar, he will never reach the level he wants to reach."
Last weekend Mourinho claimed that his side's Quadruple prospects were being hampered by a conspiracy whereby referees were not prepared to award penalties to Chelsea while simultaneously refusing to award them against United.
He was referring to possible spot-kicks both Sheffield United and Middlesbrough felt they should have been awarded at Old Trafford and a penalty he was convinced Chelsea should have been given at Newcastle.
United are three points ahead of Chelsea in the Premiership with four games left, with the two sides meeting at Stamford Bridge on 9 May.
They will also face each other in the FA Cup final and both clubs are in the semi-finals of the Champions League.
Help us with a Sport and Betting Survey! Click here to take part now.