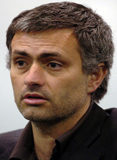 Jose Mourinho believes football's authorities treat him differently to other coaches after tempers flared following Chelsea's Michael Essien's dangerous tackle on Dietmar Hamann during last night's Champions League encounter with holders Liverpool.
Rafael Benitez reacted furiously to Essien's lunge and, as he protested on the touchline, Chelsea boss Mourinho pointed at the Liverpool manager.
"I was telling him he was crying all the game," said Mourinho, who claimed not to have seen the incident.
"I was telling him: 'It's enough. Sit down.' Referees are always very direct and strong to put me in my place, but other managers can do what they want."
The Portuguese compared himself and Manchester City manager Stuart Pearce who, in a recent Premiership game, ran onto the pitch to return the ball.
"You can imagine if I do what Pearce did," he said. "For Jose Mourinho it is a three-month ban."
Mourinho appeared to be deflecting attention away from the tackle which was described by Dietmar Hamann as the "worst tackle I have ever experienced".
"I was going for the ball and I think he came over the ball and caught me just below the knee," said the Liverpool midfielder.
"The referee didn't see it and you have to get on with it.
"When things like that happen, what you must not do is allow yourself to be distracted, we were playing well and controlling the game and getting the result to win the group was crucial.
"You have to get over these things and move on to the next match and make sure that we continue the run we are in."
The challenge clearly angered Benitez, although he refused to condemn Essien afterwards.
"I could see the tackle," said the Liverpool boss. "It was just in front of the bench. I've also seen Dietmar Hamann's leg. It's clear. If you can see the video you will have your opinion. You cannot change things, so I don't want to talk about them."
"I have an idea that in this kind of situation they should look at the video. Not for changing the game, but if the referee has made a mistake."
About Mourinho's comments he was reticent to become involved.
"I think he talks a lot," Benitez said.
Subscribe to World Soccer – The essential football magazine