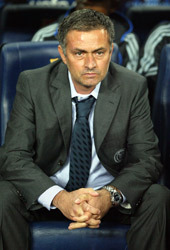 Compare football odds from over 25 bookmakers and claim £500+ in Free Bets. Click here for offer!
Jose Mourinho has opened a rift with Chelsea's owner Roman Abramovich by criticising the lack of stability at the club.
Despite remaining in contention to win four trophies this season, Mourinho's future at Stamford Bridge remains uncertain and the former Porto coach admits that he may be forced out of the club.
The fact that Mourinho was speaking to the Madrid-based Marca newspaper has prompted speculation that he was courting the owners of Real Madrid.
He also compared the lack of stability at Stamford Bridge to the situation at Real Madrid, but nonetheless admitted "it would be an honour to coach Madrid" and that "Madrid can still win the league."
"It is harder to work and to achieve results for a club that is not at peace," Mourinho said. "I could liken Real Madrid's situation with England, with that of Manchester United, Arsenal and Liverpool compared to Chelsea."
"At Manchester United, there is tranquillity; Arsenal will not win anything this year but they also live in peace and without any doubts over their future; the same can be said for Liverpool.
"By contrast, the other day I was calculating the number of coaches who have been named as Chelsea's new manager for next season. We're up to 13. The latest was Mark Hughes, who appeared last week. If you want to win, the coach needs to be strong, the players need to be strong, the whole group needs to be strong, with the players 100% behind their manager."
"My work is with the players. I don't want to talk about my relationship with Abramovich," he added.
"The most important thing at a club is your relationship with the players and your staff. I would consider myself very fortunate to be able to enjoy a relationship as good as this anywhere in the future.
"It would be impossible to have a better relationship with the players and the fans than I have at Chelsea. But if I have to leave for some reason or because someone wants me to leave then that's life in football."
"The work I have done at Chelsea over the last three years has to be classed as historic and this season has been the best of them all. What we have had to overcome is incredible. Cech has had to have two operations, Terry has had two very serious injuries, both of which needed operating on, Robben, two or three, Essien likewise.
"And despite everything, look where we are: in the semi-finals of the Champions League, the semi-final of the FA Cup, we've won the League Cup, and we can still win the Premiership, where we're just three points behind the leaders."
Mourinho insister he would like to stay at Stamford Bridge, although he was quick to reveal out his admiration for Real.
"I have a contract until 2010 and I want to continue at Chelsea. It would be an honour to coach Madrid but it is not something I want to think about now. If my name is linked to Madrid it's not because I have done anything to make that happen. Chelsea is a club I love, one where I want to continue."
"But, if I have to leave for some reason or because someone wants me to leave, then that's life in football. If I leave, I want to work at another European club. I like English football and it would be nice to work at another Premiership club but not now. I will not even contemplate leaving Chelsea and going straight to another English club. That would be very strange – and it's something I don't want to happen."