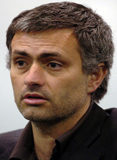 Chelsea coach Jose Mourinho has attempted to play down his falling-out with rival manager Arsene Wenger, saying he never intended to offend his Arsenal counterpart.
"Of course this is not a personal thing," Mourinho said. "Of course the intention is not to hurt the man, the human being, of course not."
The hostility between the pair has rumbled on all week with both managers trading insults.
Asked whether he was prepared to apologise for his remarks, Mourinho said: "If he is ready to apologise from Highbury about the quotes and quotes and quotes about Chelsea, I'm ready to do the same."
Chelsea chief executive Peter Kenyon had earlier called Arsenal managing director Keith Edelman on Thursday, in an attempt to initiate a thawing in the relations between the two clubs.
Meanwhile, Mourinho played down the feud between the two managers.
"I have respect for the human being because he's a successful man and nobody helped him to arrive where he arrived…then as a manager it's the same. He did good things.
"But too many quotes about Chelsea, some hard…some funny…but I think it's enough."
"I have problems to solve in my club because I lost a game and I want to do better. He has problems in his club because they are not doing as well as they need to in the Premiership. So it's better for us to work and forget this," he said.