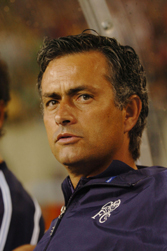 Jose Mourinho is hoping that Chelsea are paired with the Champions League favourites Barcelona when the draw for the next stage of the competition is made today.
The Chelsea manager also said he was relieved that his club could not face Italian opposition because Milan, Internazionale and Juventus all finished top of their groups.
"I don't like to play against Italians," said Mourinho.
"For emotional reasons, and because people say they are the best team in Europe, I would like to play Barcelona."
Mourinho also ruled out making any signings when the transfer window opens in January but admitted he was frustrated at being unable to sign Brazilian players.
"It's not easy because of the work permit," he explained.
"Only special Brazilians can play in English football. I can't find a young player like him. He's not an international. Brazil have two or three incredible young players."
"If you want a Brazilian, you can't just go for the big names. For example, Kaka. Are Milan open to selling him? I don't think so."
Mourinho was speaking at the launch of his biography, Jose Mourinho Made in Portugal.
Despite being regarded as arrogant, the former Porto boss said he expected one day to be sacked.
"Of course I'll be sacked one day," he said. "Bobby Robson was 62 or 64 when he was first sacked at Sporting Lisbon. He was leading the Portuguese League so you never know.
"Benfica half-sacked me. With my personality it will arrive for sure, but when it arrives I won't cry. In the next week, or maximum a month, I'll have another team."
At the moment though, Mourinho is enjoying life in England.
"When I decided to go to England – not Italy or Spain – my heart spoke well. I couldn't be happier than at Chelsea. After my actual contract ends, if I am here I would love it."
"It's normal for me to walk down a London street and hear an Arsenal or Tottenham supporter saying 'I want you to lose but I respect you'," he said.
I feel the same from other people in football but that's also because I respect everybody. I feel big passion from the Chelsea fans."