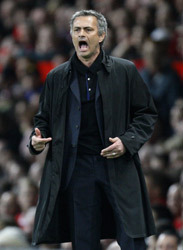 England face Ukraine in a crucial World Cup 2010 qualifier on Wednesday. See all the early betting here.
Inter boss Jose Mourinho has backed FIFA's controversial "6+5" rule, designed to limit the number of foreign players in domestic leagues, and insists that concentrating on home-grown players is the right path for football to take.
FIFA president Sepp Blatter's proposal, which has the backing of the majority of FIFA's 208 member nations, states that at the start of a game a club must field at least six players who would be eligible for the national team of the country of the club.
In an interview with ESPN Mourinho said: "The sentiment I think is correct. I'm not concerned about the exact number, 3+3 or 4+4 or 5+5, that's not the point. But the philosophy of teams to look to youth policy and youth development, I think the philosophy is correct, yes."
Serie A side Internazionale have very few Italians at the club and this is something that Mourinho has started to address.
Two of the club's Italian youngsters, Davide Santon and Mario Balotelli, have been offered opportunities under Mourinho, and the Portuguese points out it is important for the fans to have local players to identify with.
"You know, the world is global, football is global, we cannot be too much concerned about nationalities, but I think the clubs, they must invest in their formation, in players made in the club, made in the country," Mourinho said. "I think this is also about the empathy between the team and the fans."
"In this moment you can see San Siro full of people with Santon shirts. Four months ago they didn't even know Santon was at Inter Milan. In this moment they go to the stadium and wear his shirts – why?
"Because he's Italian, because he's made at Inter, because he's a young boy, because he's a boy who can play at Inter for the next 10, 15 years. So people can create a better relation with the team when they feel the nationality is there."
But despite openly backing FIFA's idea of promoting local talent, Mourinho believes it is not something that can be imposed right away.
"We cannot do it with a finger click," the former Chelsea boss said. "I think most of the teams, they are not ready to give an immediate answer to this kind of demands, it must be step by step."
"The clubs, they cannot feel a little bit of pressure to change direction and approach this philosophy, but is completely possible to do this in the next years."
England face Ukraine in a crucial World Cup 2010 qualifier on Wednesday. See all the early betting here.
For more fascinating features, subscribe and save 30% and use the below link?