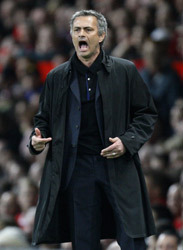 Fulhamkick off their Europa League group away at CSKA Sofia– see all the best odds here.
Jose Mourinho praised his team for their play without the ball following their Champions League group F 0-0 draw at the San Siro against holders Barcelona.
In a match of few chances Inter contained their opponents to come away with a valuable point on Wednesday.
Barcelona dominated possession, particularly after the break, but Mourinho argued that his team had controlled the match.
"From the bench I saw two teams with great respect for each other. Two good defences, good organisation, good concentration, few gifts for their opponents," he said.
"In the first half the two teams were equal, in the second Barcelona were better, they had more possession, more control but against an Inter that controlled the game without the ball in a defensive sense.
"Barcelona are the best team in Europe. They're not just the European champions because it's not always the case that the best team in Europe are European champions but they are and so we did really well."
But Mourinho insisted that his team came as close to winning as Barca.
"For me it was a match that hinged on details where the minimum defensive error could have led to a goal and three points," he said.
"They had chances and we had ours. They obviously had more of the ball and it's better to control a game with the ball than without it.
"But controlling a game without the ball is a quality and worthy of merit. I shouldn't say this because we're in Italy and if you're in Italy you shouldn't say that without the ball you can play football, but I'm saying it.
"You can play football without the ball and in the seocnd half that's what we did.
"I was joking with (Barca coach Pep) Guardiola after the game about the tactical war we had. A 0-0 can be a great match and I think it was a great match."
Mourinho claimed his reconstructed team – that boasts five changes from last year – would need time to gel.
"For sure after two or three months a team will not play at the maximum of its capacity," he added.
"We have players, talent, mentality, organisation but we need instinct and dynamism.
"We need time to work but we don't have time to train because we're always playing every three days so our training is done in matches.
"And obviously it's not great training against Barcelona because you're training against the best team in world."
The Portuguse boss also insisted that this year the Champions League would not be dominated by English teams as it has in the previous three seasons.
"I think the Champions League can be better this season because the English teams have the same potential but Barca are Barca, we will have a better Inter, a better Bayern Munich, a better Real Madrid and the other Italian teams of course want to do better," he added.
"AC Milan are back in the Champions League so I think it will be tough."
Fulhamkick off their Europa League group away at CSKA Sofia– see all the best odds here.
For more fascinating features, subscribe and save 30% and use the below link?