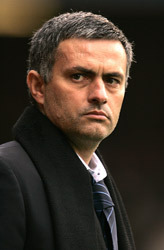 A rare outing for Man Utd tonight as they play host to Fulham in the Premier League. Click here for the latest betting!
Jose Mourinho has prepared a blueprint for the future of English football in the hope that the Football Association will contact him this week to discuss the vacant England manager's position.
Mourinho has been contacted indirectly in recent days by players and officials and believes the approaches have been made on behalf of the FA.
News of Mourinho's interest in the England post comes amid a report that he was preparing to coach Milan after being reportedly offered the job of managing the European champions.
The article suggested Mourinho is using the FA's interest as a bargaining tool to land a position at a top club in Spain or Italy. However, Mourinho has been keen to dimiss the report.
"These are lies; Jose is not waiting for an approach from these clubs," Mourinho's media consultant, Eladio Parames told . "Jose has had no approach from any club and no one has contacted Jorge [Mendes]. If there is an approach from the FA, Jose will decide."
"It would be an honour," added Parames. "He likes English football, the people, the country and the players.
"It's something he'd consider but he's not trying to get the FA's attention."
Parames told the Associated Press: "He's not waving his hands in the air, but if he's approached, he'll reply.
"If he were approached he'd consider it, discuss it, negotiate, present his own ideas," said Parames.
"Jose's problem would never be money. If he's approached, invited, there will be positive and negative things for him to consider and he'll weigh up the pros and cons."
Unlike other foreign candidates, such as Fabio Capello and Guus Hiddink, the former Chelsea manager has intimate knowledge of the English game and has received reports on the workings of the international team from the England players at Stamford Bridge.
A friend of Mourinho told The Guardian: "In my opinion if they want him – and I believe they do because there's a lot of pressure from the players and people in general in England – and if they accept his plans, I think he could be England's next boss."
Mourinho's plans for the future are reported to include commencing the building of the National Football Centre at Burton – a project that was abandoned by the FA due to soaring construction costs. He would also like to oversee the creation of an organisation based on club structures and would want to employ an independent full-time medical department for the national team.
A rare outing for Man Utd tonight as they play host to Fulham in the Premier League. Click here for the latest betting!