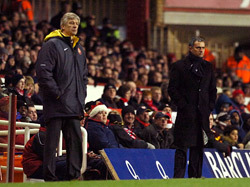 Chelsea manager Jose Mourinho has accused Arsene of of trying to get Michael Essien sent off, following his side's 2-0 win at Highbury.
Mourinho left the pitch without shaking hands with Arsenal boss Arsene Wenger and believes Arsenal set out to exploit the controversy that has surrounded Essien since the midfielder's controversial tackle on Liverpool's Dietmar Hamann in the Champions League.
"The incident I saw was 10 players jumping on [Essien] like something ready to do," Mourinho said, "like a strategy, like: 'We are going to use the image that Essien has and, in the first body-to-body situation we have, to jump on him.'
Arsenal players surrounded Essien after he caught Lauren in the mouth, and the Chelsea manager feels they exaggerated the incident.
"What I saw was very, very sad, with 10 players jumping on one," he added.
"He made his mistake and was punished for that and he is suspended in the Champions League. Now he deserves to be looked at as a great player and now we have to be careful with other teams' reactions in relation to him."
Mourinho dismissed the lack of a handshake.
"I don't think it's important for the game," he continued. "The important [thing] is 90 minutes of football."
For his part, Wenger seemed unconcerned by the snub.
"I must say frankly that it doesn't stop me from sleeping," he said, "but it was not on my side."
Wenger dismissed Mourinho's claim that his players had targetted Essien.
"We did not even speak about Essien before the game," he said, "so as a deliberate strategy we hid it very well."
"The referee was not brave enough to make the decision but it was a straight red. He hit him with his elbow and didn't play the ball, he played the player."
The Arsenal manager was also angry with the referee for ruling out a Robin van Persie strike at 0-0.
"We scored a fair goal and the referee made a bad decision. I associate the referee and the linesman with the same team – the Chelsea team."
The FA could now ask Wenger to explain his after-match comments.
Subscribe to World Soccer – The essential football magazine