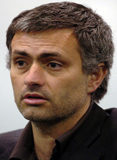 Chelsea boss Jose Mourinho has confirmed that he has compiled a 120-page dossier on Arsene Wenger's comments about his club as the pair continued their war of words.
Mourinho made the claim after Arsenal manager Wenger responded to his rival's description of him as a "voyeur".
"When you give success to stupid people, it makes them more stupid sometimes and not more intelligent," said Wenger in response.
Mourinho says he will withdraw his remarks until Wenger does likewise.
The Chelsea boss said: "We have a file of quotes from Mr Wenger about Chelsea in the last 12 months – it is not a file of five pages.
"It is a file of 120 pages, so we have a very strong reaction.
"My objective is that it is enough. He has talked enough about us.
"He has said some very strange things about Chelsea football club. We have a very strong answer.
"I accept his next answer being strong but it is time to stop because if he doesn't stop, we are there for the fight."
Arsenal and Chelsea were in dispute last season following an illegal approach from the Blues for the Highbury club's defender Ashley Cole.
Mourinho upped the ante with his "voyeur" comments which angered Wenger.
"I find it out of order, disconnected with reality and disrespectful," said the Frenchman.
"I will see if I take any action. I don't know yet but I will leave that door open. I don't know what I said that was malicious.
"I was asked a question about Chelsea and gave my honest answer, just like I expect any other manager to do when he is asked about Arsenal."