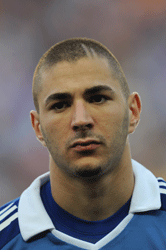 England are a best price 4/6 to defeat Ghana in Tuesday's International friendly at Wembley…
Jose Mourinho is taking the credit for Karim Benzema's recent improvement in form at Real Madrid.
The France striker struggled in his first season with the club following his move in July 2009 from Lyon, and his departure from the club seemed certain earlier this season.
But Benzema has managed to turn things around, scoring eight goals in his past five games.
"Everybody can see that he is a better player," Mourinho said in an interview with L'Equipe. "He's improved because his coach is a demanding one, and has asked for a different attitude from him—both at training and on the pitch."
Benzema signed a six-year deal worth €35 million with Madrid and had a disappointing first season with the Spanish outfit, scoring only eight goals in the league and struggling for a place in the starting lineup, with Cristiano Ronaldo and Gonzalo Higuain the first-choice strikers.
Mourinho, who joined Real last summer, said Madrid officials had taken the wrong approach with the 23-year-old striker.
"There was almost an obsession about him," Mourinho said. "He had to become a great player, an important player at Real. For that, they were almost tempted to make his life easier: 'OK, you don't play very well, but you will play. You don't work a lot but you have to play because we cannot block the progress of a talent that cost so many millions."
Mourinho said he persuaded Benzema that success would only come through hard work.
"I won't give you anything," Mourinho told the striker. "If you don't win, you will drown. But if you win, you'll come out of this stronger."
When Real signed striker Emmanuel Adebayor from Manchester City on loan in January, the move seemed to signal the imminent departure of Benzema.
"A lot of people thought I wanted a third striker because I didn't like Benzema," Mourinho said. "But I wanted a third striker because I needed one. I definitely didn't want to make things more difficult for Karim or brush him aside.
"He's improved because he convinced himself that it's important for him. I didn't give him anything. The result is that today Karim has not become a big boy, but a man."
England are a best price 4/6 to defeat Ghana in Tuesday's International friendly at Wembley…
Take advantage of the sales by saving up to 36% on a subscription to World Soccer