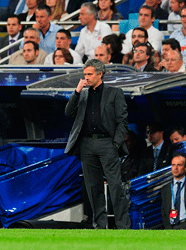 Save up to 33% on a subscription to World Soccer
Real Madrid assistant coach Aitor Karanka says Jose Mourinho has not been informed as to the official reason he was handed a five-match ban by UEFA and that he does not intend to speak to the media until an explanation is given.
UEFA announced Mourinho's suspension on Friday as part of a series of punishments meted out to both Madrid and Barcelona for incidents during the Champions League semi-final first leg between the Spanish rivals.
According to a statement on the UEFA website: "Madrid coach Jose Mourinho, who was dismissed from the bench in the first leg and made an inappropriate statement at the post-match interview, has been suspended for the next five UEFA club competition matches for which he would otherwise be eligible."
However, Madrid and Karanka both subsequently said they had not received an explanation from UEFA for Mourinho's ban.
In announcing they would be appealing the ruling, Madrid said in a statement: "Real Madrid considers this resolution still suffers from the same defects found at the start of the disciplinary case, which made it impossible for our coach to use his right to defend himself, since the exact statements for which the disciplinary case was opened are still unknown."
Karanka, who took Friday night's press conference in place of Mourinho, echoed that point, saying: "We still don't know the reason for the sanction.
"The club have already announced they are going to appeal and, on a personal level, Mourinho is going to defend himself and he will fight to the end."
Karanka also said Mourinho would not appear before the media again until he receives an explanation from UEFA.
"It's UEFA who have sanctioned him and as of right now they haven't communicated the reason why they have sanctioned the coach," he said. "It's his decision [not to speak to the press], like every time that I've come out. Both he and the club are going to defend themselves for justice and defend themselves from what has happened. He doesn't want to talk or make a comment.
"We aren't going to look to what will happen next week. The idea is that until [his punishment] is specified or [he] is given a concrete reason, he won't come out [to speak]."