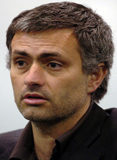 Jose Mourinho has criticised Uefa for not putting Chelsea in the top group of seeds for today's UEFA Champions League draw.
The Premiership champions have reached the semi-finals of the Champions League for the last two seasons, but are not ranked as one of the top eight sides for the group stage draw.
"Chelsea have been semi-finalists twice in a row and are the champions of England," said Mourinho.
"But we will be seeded second and that means we will face somebody big, big, big.
Chelsea could now face Milan, Real Madrid, Barcelona, Bayern Munich or Internazionale in the group phase as a result of the seeding.
Mourinho is not happy with Uefa's seeding policy, and believes Chelsea should be among the top seeds.
"Normally, if you are the top seeds you have it quite easy in the group phase so you can play and control the group from the start of September and do what you need to do.
"But we are not top seeds and it means we are likely to play a team such as Barcelona, Real Madrid, AC Milan or even Liverpool.
"I have not studied the co-efficients and it is not for me to say if they are correct or not. But United are a top seed and so are Arsenal and Liverpool. Yet the champions of England are not.
"I know we will have a big team in our group. Because of this seeding it will be especially hard for us."