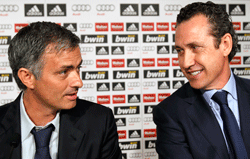 Paraguay, continue their World Cup preparations with a trip to Ireland this evening. BestPrice betting here – 19:45 SS1
Jose Mourinho has been officially unveiled as the new Real Madrid manager, and has set out his agenda for success at the Bernabeu.
The Portuguese coach clinched the treble last season with Inter and has now been given a mandate to improve Real's performances.
Mourinho, who has signed a four-year deal, is keen to transform the club and get everyone pulling together in the same direction.
"I don't know if I was born to coach Real Madrid but I was born to be a football coach," he said.
"I love important challenges. I am Jose Mourinho and I don't change. I arrive with all my qualities and my defects.
"My attraction to Real Madrid is due to its history, its frustrations in recent years and its expectations to win. It's a unique club and I believe that not to coach Real leaves a void in a coach's career.
"Luckily, I've had a beautiful career and it makes me proud to have come here.
"I am very enthusiastic. I want my players to think that way. The beauty is not so much to train or play at Real, but to win at Real Madrid."
The 47-year-old – once a translator at Real's arch-rivals Barcelona – refused to go into detail when asked to discuss any changes he had in mind for the club.
He added: "It is too early to speak about changes, I believe it's time to analyse the situation, to know my new club, make a lot of questions and wait for answers.
"I need to realise the direction of my work.
"But the strengths of my teams were always the team, not the individuals. And was always the fact that my players understand that the most important thing is the club, not the players, not the coach.
"We are too little compared with the dimension of the club, and if we all realise this and if we all work in a group I think it is not too difficult to get results."
On Real's record signing Cristiano Ronaldo, Mourinho added: "Cristiano is an incredibly important player, not just for Real, but also for the world of football.
"Cristiano is a winner, he likes to win. So if he likes to win I think it's not too difficult to persuade him that the most important thing in this football club is not the coach, it is not the players, it is the club."
Real parted company with former manager Manuel Pellegrini last week following a disappointing campaign, which saw them end the season empty-handed.
Mourinho was not happy to see Pellegrini sacked, but is now only looking to the future.
"I think a coach needs to be ready to be sacked," he said. "But if a coach fears that, he doesn't work well and has great problems.
"I am a coach that has a lot of self-esteem and confidence and I don't think about the possibility of being sacked.
"I think four years of contract is enough to win, to build a strong team for the present and the future.
"The sacking of Pellegrini doesn't make me happy. I am never happy when a coach is sacked. But football is like that.
"I have a lot of confidence in my players, I have the hope that my new players have confidence in me."
Paraguay, continue their World Cup preparations with a trip to Ireland this evening. BestPrice betting here – 19:45 SS1
Make sure you don't miss any of the last news and articles from World Soccer. Subscribe to World Soccer today and take advantage of our all 50th anniversary offer, saving up to 50%!