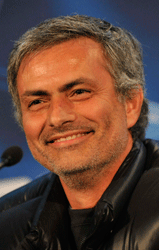 Premiership Tipping Podcast: Get the best weekend value from our team of experts!
Jose Mourinho claims he would be satisfied with a 1-1 draw when Tottenham visit Real Madrid on Tuesday.
Real Madrid are currently struggling with an injury crisis that has seen Cristiano Ronaldo, Gonzalo Higuain, Karim Benzema and Marcelo miss games.
Mourinho, who suffered his first home defeat in 9 years of management in Saturday's 1-0 loss to Sporting Gijon, believes that, given their current predicament, a goal-less draw would be a good result for Madrid ahead of the second leg at White Hart Lane.
"I know our limitations, because the players are dead," he said. "Even if we'd drawn 0-0 it would have been a bad result in the league. Against Spurs, though, it would be a good result – or at least it would not be a drama, especially if we have injured players back for the decisive game in London.
"We lacked all our creative players [against Sporting Gijon], except Mesut Ozil. If Cristiano plays against Spurs it is because he and I are taking a risk. The doctor says he will only be fit for the game Bilbao next week.
"Marcelo is out for two weeks and Karim Benzema will only come to Bilbao and London, not play the home game. We could ignore the medical department but if it went wrong you would kill me and that would be risk.
"Now we have to see if we play people to try to settle the tie in the first leg or if we are satisfied with a draw, but 0-0 at home is good and even 1-1 is not dramatic. It would be all open, so I'll talk to the injured players and decide whether we risk them."
Spurs boss Harry Redknapp says he is taking little encouragement from Madrid's shock home defeat Saturday as he feels it simply shows Mourinho is prioritising the Champions League.
"I'm not at all fooled by the result," he told The Sun. "I've not watched the game on TV yet and to be honest I'm not sure it'll tell me all that much.
"Jose rested so many players that he's showed his hand at what his priority is this season – winning a third Champions League title with his third different club. What an achievement that would be, you have to admit.
"No Xabi Alonso, Pepe, Karim Benzema. Tuesday's team will bear no resemblance to the one that played on Saturday. We had Tim Sherwood and Les Ferdinand there watching for us and they've told me basically the same thing, so there was no point in me spending all day Sunday worried sick about the game or rubbing my hands together because Jose's lost his first home match since 2002."
Redknapp said he is looking forward to the game but stressed that he will only be satisfied if Spurs perform to their capabilities.
"Matches like this one don't come round very often, so we should make the most of it," he said. "We are massive underdogs and rightly so.
"Everyone keeps telling me to enjoy it, enjoy it, but I won't be able to unless we play well. As a manager, that's all that really concerns you. Yes, it'll be great to walk out with Tottenham at the Bernabeu Stadium but, if we let ourselves down, there's no enjoyment in that is there?"

Premiership Tipping Podcast: Get the best weekend value from our team of experts!