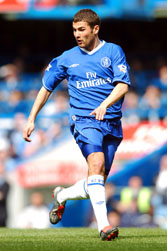 Adrian Mutu has confirmed he tested positive for cocaine, the Professional Footballers' Association has revealed.
The Chelsea striker declined to take a second test and his acceptance of the positive test could mitigate any punishment Mutu now faces.
"He will not be going ahead with the second test. He has tested positive for cocaine," Gordon Taylor, chief executive of the Professional Footballers Association (PFA), confirmed.
The Romanian striker met with representatives of the PFA on Monday and will not insist on further analysis of the original test which proved positive for cocaine.
"There will be a hearing at the Football Association, which we hope can be held as quickly as possible to get the matter dealt with," Taylor explained.
His representative, Gica Popescu revealed the striker was "destroyed" but in the lught of his admission, now hopes for a reduced sentence.
"Chelsea confirmed to me that Mutu had tested positive but did not reveal the substance," confirrmed Popescu.
"I told him that almost always the second sample confirms the first sample.
Taylor said he was disappointed Mutu's name had been leaked on Monday.
He said: "We have been aware for a short time there had been a positive test because we work with the FA on drug-testing procedure but this is a breach of confidentiality.
"I have been in contact with the player but it would be wrong to say what he thinks."
Mutu's situation has also caused a rift among the four agents who currently represent him.
Ioan Becali, another of Mutu's agents, revealed that it was Chelsea manager, Jose Mourinho, who informed him that Mutu had tested positive for an illegal substance.
"I found out about the result on Tuesday. The Chelsea manager (Jose Mourinho) was a gentleman and called me.
"From that moment I decided to change my phone number. That is why I didn't want to go to England with my brother Victor, who also looks after Adrian, because I knew the story was true.
"I was very unhappy with Mutu and told him about the test. But he decided to go to Italy because he would be ashamed to appear in front of his colleagues ahead of this news."
Becali explained the reasons for Mourinho ordering a drug test.
"He didn't play well against Villa so he didn't merit inclusion against Paris St Germain in the Champions League a few days later," said Becali.
"Three players missed a training session after that game. Mutu was one."