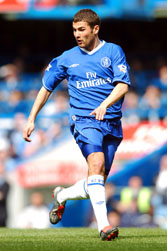 Chelsea striker Adrian Mutu has admitted that he will probably have to leave Stamford Bridge.
Mutu tested positive for a banned substance and is facing a possible ban.
"I am almost certain Chelsea will not pay me during any suspension period I might get. But they will not sack me," the 25-year-old is quoted as saying.
"(But) most probably I'll have to go back and play in Italy again."
Earlier this week, English players' union chief Gordon Taylor said Mutu had admitted testing positive for cocaine.
But yesterday Mutu told Romanian television: "I didn't take cocaine. I took something to make me feel good."
"I am not hooked on drugs. I categorically deny this. The only reason I took what I took was that I wanted to improve my sexual performance. It may be funny but it is true."
Mutu also revealed that he had a huge bust-up with Chelsea manager Jose Mourinho.
"I have to admit that in the heat of our confrontation I did actually threaten Mourinho about what would happen if he ever went to Romania," said Mutu.
"In a moment of total madness, I almost hit him, too. But now I am calmer and I must say I have nothing against the coach."