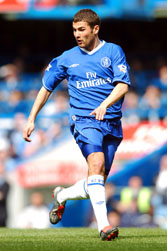 Adrian Mutu claims he could retire from football following Chelsea's decision to sack him.
The 25-year-old Romanian striker faces a ban of at least six months when the Football Association delivers its verdict on his drug test failure.
"Chelsea have destroyed me – I don't know what I am going to do," he said.
"I am shocked and surprised by their decision.
"I didn't expect them to pay me while I was suspended but I never thought they would sack me either.
"Why didn't they wait to do this? Now my career is in ruins. I might as well walk away from football."
Chelsea chief executive Peter Kenyon has defended the club's hardline stance.
Kenyon told BBC Radio Five: "We are absolutely confident there isn't a drug-taking problem within Chelsea.
"If any of our players fail a drugs test our contracts are clear – we will take the same position."
"The players have a role to play in this. It's a two-way process.
"Players are given ample opportunity and support these days – we fully buy-in and support the PFA's education programmes.
"The same support was there for Adrian Mutu. He chose to ignore it and lie and as a consequence the rules are quite simple.
"To suggest there was no support and we left him out to dry because we wanted to get rid of him is absolute rubbish.
"During the close-season 14 players left Chelsea and seven came in, along with a new manager.
"The nucleus was there to be a part of our first-team squad and compete in every competition.
"We could have taken the decision to move him out and get a transfer fee but we chose to embrace him as we wanted him to part of our squad."