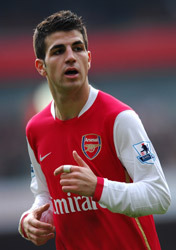 New Real Madrid coach Bernd Schuster has admitted he would be interested in signing Arsenal midfielder Cesc Fabregas.
The young Spaniard has been linked with a move to Real, although he recently reaffirmed his commitment tot the Gunners.
Real sporting director Predrag Mijatovic confirmed over the weekend that la Liga champions are still interested in signing the 20-year-old.
"I like Cesc Fabregas, he plays in the same position as I did in my playing career," said Schuster at a press conference.
"He has improved a lot in England, and learnt a lot from Arsene Wenger, a coach who I admire and who has done over the years a very good job with young players.
"I believe he is one of the few players in his position that can carry a team on his back, and when I say teams, I mean quality teams."
Meanwhile, Schuster paid tribute to his predecessor Fabio Capello, who was sacked despite leading Real to their first tilte in four seasons.
"He achieved something very important by winning the league title last season, Schuster continued.
"If you don't win trophies it creates a lot of tension and so the fact that the club has won the league title has taken a weight off my shoulders. It will make my job that much easier.
"We all knew how hard it was to take over the team last season. In the end he achieved a lot in terms of improving team spirit. That's what helped the side win the league title and I'm going to make the most of that spirit.
"It would have been a lot harder for me if the team had not won the title. There would have been more nerves and more pressure."