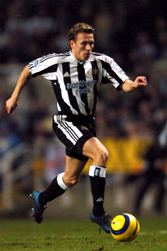 Newcastle United have accepted a £6m bid from Birminghamm City for unsettled striker.
The 25-year-old Welshman had been left out of the Newcastle squad to face Coventry in the FA Cup after a row with boss Graeme Souness.
"We have agreed a fee of £6m with Birmingham for the transfer of Craig Bellamy and Birmingham have been given permission to talk to the player," said a club spokesman.
Bellamy accused Souness of lying over the reasons he was dropped from the team to play at Arsenal last weekend and was told by the manager he would never play for him again.
Souness said: "He can't play for me ever again. He can't go on television and accuse me of telling lies.
"I'm not going to dwell on it, but I think in most walks of life that would be the case.
"I've covered it in my programme notes tomorrow for the game and people can read my side of the story and maybe make their judgement on it."
Souness added: "The situation has been addressed regarding Craig Bellamy. It was always going to happen, whether it would be a month or six months.
"But it's a healthier club now. It's a week we could have done without, but we've addressed the problem and dealt with it very well.
"The chairman has acted in the way the chairman should and I couldn't have asked for any more support than I've received from him."