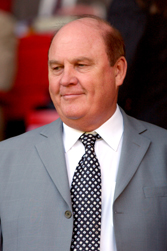 Newcastle chairman Freddy Shepherd said the club will not be rushed into finding a replacement for Sir Bobby Robson, who was sacked last week.
Shepherd admitted he faces a "legal minefield" during his search for a new manager as several of the candidates are currently tied up on long-term contracts.
"I know the fans are impatient and I'm as impatient as they are," admitted Shepherd. "But I've got to do what is best for Newcastle, not what is best for my popularity.
"We don't want any knee-jerk reaction and we cannot rush into anything. We're trying to do things correctly and professionally.
"There's a legal minefield out there and we have to observe all the rules of the Premiership.
"We're talking to everyone we are legally entitled to and those who we feel merit our consideration.
"What we must not forget is that it is the future of Newcastle United which is at stake here and the most important thing is to get the right man."
Skipper Alan Shearer, who has been tipped to be the long-term successor to Robson, believes he is too young and too inexperienced to do the job at the present time..
Other candidates such as Bolton's Sam Allardyce, Middlesbrough's Steve McClaren and Birmingham's Steve Bruce, have all ruled out the possibility of a move to St James Park.