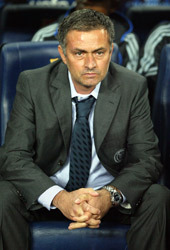 Jose Mourinho says he expects Chelsea to be outspent by a number of their Premiership rivals over the coming months.
However, rather than lament situation, Mourinho believes a relatively quiet summer in the transfer market will help ease the pressure on the club.
The Blues have so far brought Steve Sidwell, Claudio Pizarro and Tal Ben Haim to Stamford Bridge on free transfers this summer.
In contrast, champions Manchester United have already spent around the £40million mark on three players, and Liverpool, Arsenal and Tottenham are also expected to busy in the transfer market.
"People ask Chelsea, 'Last season you won two trophies; why did you not win four?' But not many journalists ask Rafael Benitez and Arsene Wenger, 'Why zero?' And not many people ask Manchester United, 'Why only the Premiership?'," said Mourinho in the club's official magazine.
"Is it about money? If it is, I hope that next season the media put pressure on the big spenders because the big spenders for sure will not be Chelsea.
"The spenders will be Liverpool, Manchester United, Tottenham and maybe Arsenal. I don't know, but it won't be Chelsea for sure.
"So maybe at the beginning of next season they will say that Chelsea are not the favourites any more because the club did not spend so much money."
Mourinho has also attempted to explain the difficulty of identifying talent among young players.
"Young players are a little bit like melons. Only when you open and taste the melon are you 100 per cent sure that the melon is good," Mourinho added.
"Sometimes you have beautiful melons but they don't taste very good and some other melons are a bit ugly and when you open them, the taste is fantastic.
"One thing is youth football, one thing is professional football. The bridge is a difficult one to cross and they have to play with us and train with us for us to taste the melon.
"For example, Scott Sinclair, the way he played against Arsenal and Man United, we know the melon we have."