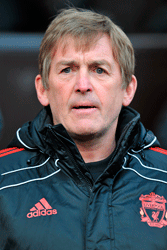 Milan are now a best price Evens to win Serie A after their 1-0 win over Cagliari put them 5 points clear
New Liverpool boss Kenny Dalglish insists he has no concerns about dealing with the pressures of management again.
Dalglish has returned to take charge of the club he last managed in 1991, after agreeing to take over until the end of the season following Roy Hodgson's departure.
His previous reign came to an end when he quit for health reasons – attributed to the emotional fallout he suffered in the aftermath of the Hillsborough disaster.
Dalglish later returned to management with Blackburn and Newcastle, but it is well over a decade since he managed a side.
But the Anfield legend is confident he can cope with the pressures of the modern game.
"I'll deal with the pressure the same way everyone else deals with it," he said after seeing his new side lose 1-0 to local rivals Manchester United on Sunday.
"You go about your job to the best of your ability and what happens happens.
"How do you know you can do anything unless you try it? I'll give it everything I've got to put this club in a better position.
"Whether that will be sufficient for everyone I don't know but I can't see into the future.
"All I can do is promise what I did when I signed for the club in 1977 – they will get 100 per cent effort from Kenny Dalglish and that is the way I'll go about it."
Dalglish admitted he had no hesitation in returning to the club, adding: "For me it was a no-brainer.
"Whatever other people think about it, they are entitled to their opinion, but I'm the one making the decision and I made the one which was best for myself and the club.
"I was happy on a boat and then I got a phone call from John Henry – being a professional athlete I was at the bar – saying he had spoken to Roy and would I like to come to look after the team.
"It's great to be back, it would have been better in more pleasant circumstances considering the result.
"For me it is a fantastic journey for me over the next six months."
Dalglish's first game as Liverpool manager for almost 20 years ended in defeat after the referee, Howard Webb, awarded a first-minute penalty that was converted by Ryan Giggs, and dismissed Steven Gerrard for a reckless two-footed lunge on Michael Carrick.
Dalglish thought the referee had got it wrong on both decisions.
"The penalty was a joke," he said.
"I've seen the replay and unless they have changed the rules it is not a penalty. The other one, I can't see that as a red card either. In the dressing room before the game someone said to me the game hasn't changed that much and I said I thought it had become a non-contact sport. Maybe I was right."
Milan are now a best price Evens to win Serie A after their 1-0 win over Cagliari put them 5 points clear
Take advantage of the January sales by saving up to 36% on a subscription to World Soccer