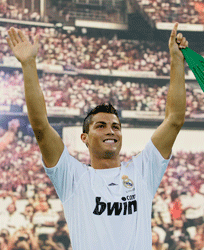 A crucial World Cup qualifying match for Scotland, as they travel to Norway looking to hang onto second place in Group 9. Find all the best prices here.
Cristiano Ronaldo's departure for Spain will not herald an exodus from England, according to the Premier League chief executive Richard Scudamore, who said that the league remained in rude good health.
Ronaldo's record £80 million transfer to Real Madrid was seen by some as the first in a flood of top players leaving England, now seen as less attractive because of the weak pound and a new higher 50% top rate of income tax.
Scudamore, however, compared the Portuguese forward's departure to the 2003 transfer of David Beckham from Manchester United to Real Madrid.
"I remain entirely phlegmatic because I know the game will sustain any one player moving either way," he said in an interview during the Premier League's recent Asia Trophy in Beijing.
"It's always exciting when a new one arrives, but players leave. As long as we've got some stars—and we've got lots — the individual one itself doesn't matter.
"If, over time, a hundred Cristiano Ronaldos left in two seasons and we had nobody, I might be sitting here with a different perspective.
"Let's talk again on Sept. 1 when the transfer deadline closes. We'll have lost a couple but we'll have gained a couple too."
Scudamore believes that there are a number of young players emerging who will soon become household names.
"They are stars now that you've heard of them, but there are people that you haven't heard of that in three, five years' time will have come up through the ranks and will replace them," he claimed.
Scudamore is upbeat about the financial prospects for the top flight English clubs.
"I think we are quietly pleased the way we've managed over the last 18 months," he said.
"The clubs have shown flexibility with ticket pricing which has kept the stadiums full and it looks like season ticket sales for next season have held up extremely well."
The main reason for his optimism, however, is that the domestic TV rights for the next four seasons are already sold, mostly to BSkyB.
The league said in February that the auction of rights for the three seasons from 2010-11 to 2012-13 had secured them £1.78 billion pounds, five percent up on the previous deal.
"The domestic TV deal is most important, it's still three quarters of what we do economically," he said.
"And to get that away at a slightly increased level was huge. That takes us through four years, and everyone's predicting we should be out of this current slump in a couple of years so therefore, that takes us past that.
"Internationally, we were hedged in many ways as we're not taking huge amounts from any one country," he added.
"If you take a little bit from each country, some will be doing well, some not, so you're hedged a bit. I think we are in a good position to weather the (economic crisis)."
The 2009-10 Premier League season starts on Saturday, August 15th.
A crucial World Cup qualifying match for Scotland, as they travel to Norway looking to hang onto second place in Group 9. Find all the best prices here.
For more fascinating features, subscribe and save 30% and use the below link?