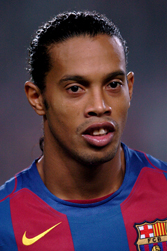 Ronaldinho has been given a one-match ban after his red card against Getafe, ruling him out of Barcelona's penultimate game of the season.
Ronaldinho was sent off when he hit out at David Belenguer after the latter had repeatedly kicked the Brazilian.
"We've sanctioned Ronaldinho for using violence in the game," said a competition committee spokesman.
"We considered the extenuating evidence of provocation before the act from Belenguer.
"Because of this, we have applied the minimum norm of a one-game suspension."
Barcelona, currently second in La Liga behind Real Madrid, are now apparently considering an appeal against the suspension.