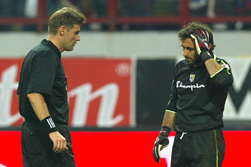 Parma have appealed to UEFA after their goalkeeper Luca Bucci was hit by a firework during Thursday's UEFA Cup semi-final second-leg at CSKA Moscow.
The Italian club went down to a 3-0 aggregate defeat in Moscow after a goalless draw in the first leg. However, they believe that CSKA should forfeit the game, which would see Parma progress through to the final.
Club administrator Luca Baraldi confirmed the club has already appealed after Bucci was struck by a flare in the 20th minute.
"I have already handed the papers to UEFA," Baraldi said.
"This is a very serious incident and it was right that the appeal was made immediately. In 48 hours, we should have a decision by UEFA. I really think that the result can be overturned."
Parma believes that UEFA has set a precedent by awarding a 3-0 win to Milan in their Champions League encounter with Inter after their keeper Dida was struck by a flare thrown by spectators.
"I see no difference to what happened to AC Milan's Dida than with Bucci's episode and I expect UEFA to evaluate this episode," Baraldi added.
Inter, who were handed a 3-0 defeat, will have to play their next six European games behind closed doors.