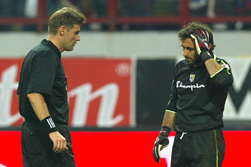 Parma goalkeeper Luca Bucci was forced to leave his team's UEFA Cup semi-final match against CSKA Moscow after a flare thjrown from the stands, exploded near his head Thursday.
CSKA supporters threw the object onto the field shortly after CSKA took a 1-0 lead in the 10th minute of the match. Bucci was replaced by Sebastien Frey nine minutes later.
Bucci was sent to hospital and was expected to stay in Moscow for treatment while the team returns home to Italy.
CSKA won 3-0 to advance to their first European final, where they will meet Sporting Lisbon.
"It's unfair but it's happened in many stadiums. It's a pity that it happened here and I hope it will be the first and the last time," CSKA coach Valery Gazaiyev said.
Parma coach, Pietro Carmignani, chose not to dwell on the incident.
"We have no regrets. I don't think we could have done much more than we did today. I won't talk about the firework that hit [goalkeeper Luca] Bucci, only about the game because I want to congratulate CSKA," he said.
"Bucci was complaining of dizziness and we had to take him off.
"I think he should be OK although he probably had a mild concussion. I don't think it's too serious."
Last month, a Champions League quarter-final match between city rivals Inter and Milan was abandoned because Milan goalkeeper Dida was injured after being hit by a flare thrown by spectators.
UEFA later awarded Milan a 3-0 win.