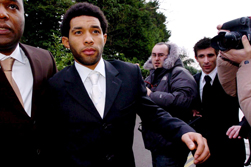 Arsenal midfielder Jermaine Pennant has been jailed for three months after admitting drink-driving while banned.
The 22-year-old, who is currently on loan with Birmingham City, crashed his Mercedes Benz into a lamppost in Aylesbury, Bucks, on 23 January last year.
He admitted the drink-driving charged and driving while disqualified and uninsured, at a hearing at Aylesbury Magistrates' Court last month.
Police stopped the player outside a leisure centre at about 0600 GMT.
Pennant claimed to have lost control of his car while changing its navigation system.
But tests showed his alcohol reading was 85mg per 100ml of breath, way above the legal limit is 35mg.
Pennant was banned from driving for 16 months last February.
Earlier, Birmingham manager Steve Bruce, called for the player not to be given a custodial termy.
"We've done everything we can to try and put him on the straight and narrow," Bruce said.
"He's done wrong and we've all done stupid things when we were younger and he admits that now.
"You can't describe how stupid he has been but as long as he learns from it, I don't think there is going to be any benefit from sending him to prison."
Birmingham managing director Karren Brady said: "We hope he accepts his punishment and learns from his mistake.
"On his release we'll give him all the help and support he needs to turn his life around."
Meanwhile, PFA chief executive Gordon Taylor said he was "disappointed but not entirely surprised" at Pennants' sentence, "bearing in mind his previous record and the fact that although he is a professional footballer, that does not place him above the law."
He added: "Arsenal have a reputation for sticking by players. They've had players like Paul Merson and Tony Adams in the past who came to terms with their problems.
"Jermaine is going to have to come to terms with himself but he can expect support from the PFA.
"We try to educate players against the dangers of drink, particularly when combined with driving."