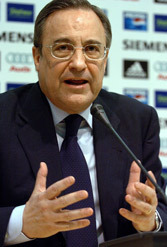 Florentino Perez has resigned as president of Real Madrid.
An extraordinary meeting of the board on Monday confirmed Perez would leave and that Fernando Martin, a club vice-president, would take over until a permanent successor has been elected.
"Real Madrid needs change and this is the right moment for me to leave the presidency," Perez said at a press conference.
"I am convinced this is the boost the club needs."
His resignation comes after a disappointing week which has seen the club suffer successive defeats at Real Mallorca on Sunday and then 1-0 at home to Arsenal in the Champions League the previous Tuesday.
Perez replaced Lorenzo Sanz in 2000 and his election created the "galactico" era at the Bernabeu which involved the purchase of the world's best-known players such as Portugal's Luis Figo, Frenchman Zinedine Zidane, Brazilian Ronaldo and England's David Beckham.
However, although Real have won the Primera Liga title twice and the Champions League once during Perez's reign – they have not secured any silverware since 2003.
"We have constructed a great squad but some of the players have got mixed up," added Perez.
"I want to capture their attention through my resignation so that they understand that all that matters is Real Madrid.
"I don't regret bringing the best players in the world to this club, but perhaps I wasn't able to make them understand the importance of their responsibilities, maybe I have educated them badly.
"Perhaps my departure is necessary to unblock the situation.
"My decision has been made in order to help Real Madrid. It was carefully considered and I believe that it is an act of responsibility."
"There is no crisis at the club," Perez added. "The financial and sporting set-up at the club is good and we are happy at what we have done here in the last six years."
"It was a gesture of loyalty for the good of the club," Perez continued.
Perez was less than two years into his second term as Real president having been re-elected in July 2004.
Subscribe to World Soccer – The essential football magazine