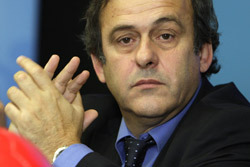 Can Liverpool overturn a 1-0 deficit in their Europa League 2nd leg against Atletico Madrid? Simon Hopper gives you the top football betting tips.
Uefa president Michel Platini has criticised the 'big liberalism' regarding English clubs' finances following the Portsmouth descent into administration.
The Fratton Park outfit became the first Premier League outfit to go into administration this season, reporting debts of £119million last week.
While Premier League chief executive Richard Scudamore believes the club's plight was caused by "rank bad management", Platini insists greater checks and balances should have been in place.
He told The Times: "I'm not in favour of the big liberalism of what has happened with the English clubs.
"I'm not an expert of finance, but it was easy to understand that clubs like Portsmouth would be in big danger of going bankrupt and going down. We have to protect them. Why was this club winning (the FA Cup in 2008) with losses of £50million?
"When I was younger, I remember seeing people with no money buy Ferraris – and then, because of the Ferrari, they would get the best girls!
"That's not correct, but it's what has happened in football: you don't have the money to buy the players, but you get the players and in the end you cheat and win the competition. That's not correct."
The Premier League responded to Platini's comments by issuing a statement: "Had we been able to introduce our financial criteria a year earlier, that would have certainly helped ease the problems faced by Portsmouth.
"The new rules, which we believe will help clubs operate in a more sustainable manner, combined with further regulations to be introduced this summer, should prevent another club in the Premier League reaching the point where their very existence is threatened.
"Having said that, regulation is not a cure-all. There are numerous examples of clubs in leagues deemed to be more heavily regulated than the Premier League that have got into difficulties."
To help prevent such problems recurring, Platini plans to introduce "Financial Fair Play" rules in time for the 2012-13 season for clubs involved in Uefa competition.
These regulations will restrict owners to covering total losses to a maximum €45million (about £40million) over an initial three-year period, which will be reduced to €30million over the three years from 2015 to 2018.
Platini insists he is not on an anti-English football crusade, but said he wants to protect the game.
He said: "I am not anti-English. If I change the Champions League, they say it's because I am anti-English. This isn't true. I have nothing against English football.
"I love the fans of England. I love them. My job, as president of Uefa, is to protect the game.
"That is my philosophy – to protect."
Can Liverpool overturn a 1-0 deficit in their Europa League 2nd leg against Atletico Madrid? Simon Hopper gives you the top football betting tips.
Make sure you don't miss any of the last news and articles from World Soccer. Subscribe to World Soccer today and take advantage of our all 50th anniversary offer, saving up to 50%!