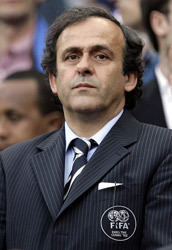 Uefa president Michel Platini has asked G14, the group representing a number of Europe's leading clubs, to disband and to drop a number of lawsuits it is backing.
The G14 represents 18 European clubs, but Platini wants the group to join a new body – the Professional Football Strategy Council.
"We can stop seeing each other before the courts, we can stop making a spectacle of ourselves in front of the whole of Europe," said Platini.
The G14 has repeatedlyclashed with world governing body Fifa over its support for a number of court actions to gain compensation for players injured whilst on international duty.
Belgian club Charleroi have taken Fifa to the European Court of Justice over Abdelmajid Oulmers, who was ruled out for eight months after being injured while on duty for Morocco. Lyon launched a similar action after Eric Abidal broke his foot playing for France.
Platini added: ""Presidents and heads of the major clubs – let us profit from your great experience and your ideas.
"Tell us about your convictions. Uefa's door is wide open – join us, and I promise you that you will not be disappointed.
"I am convinced that you will hear this appeal, because it is being made in the sense of history, and with progress at the service of football in mind."