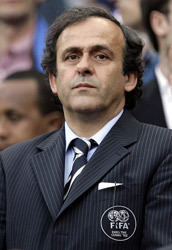 Are you a football fan? Answer a few footy questions and be in the running for a £50 Free Bet. Click here!
UEFA president Michel Platini said he was confident that his proposals to reform the Champions League will proceed despite opposition from several major clubs and professional leagues.
UEFA's executive committee is due to vote at the end of November on Platini's proposals which include reducing the number of participants from Europe's biggest nations to make room for more national champions from smaller leagues.
"I am always confident about what I want to bring to football," Platini said on Friday.
"I don't know why we need to have the third-placed team from France or the fourth-placed team from England or Italy and not have the champions of Poland or Romania.
"The idea that countries should not participate because they are poor or do not have big television rights is not my philosophy of football and I will defend that philosophy even if we have to negotiate and make politics sometimes."
The G14 group of 18 top European clubs, which is not officially recognised by UEFA, has already expressed opposition to the plans.
The Association of European Professional Football Leagues (EPFL), representing 25 of the continent's top leagues, has also voiced concern about the idea of allowing domestic cup winners into the competition rather than having clubs gain entry purely through their league positions.
"The opposition is not so strong," Platini insisted on Friday. "Some clubs are certainly against my proposals but the big majority are in favour.
"If you remember why we organised the current Champions League format it was because the big clubs had just formed their own association and wanted to make a competition of their own.
"At that moment, UEFA decided to make this competition to do a favour to them. But ten years later I think it is only natural to open the competition up and have more than just the big clubs taking part."
Platini was speaking at the end of a four-day tour of the eight Swiss and Austrian stadiums due to stage matches at next year's European Championship.
"The preparations for the tournament are well on track and I was happy to see that all eight stadiums are almost ready to stage the event right now," Platini told a media conference after wrapping up his tour at Zurich's Letzigrund stadium.
Platini was asked about the relatively small capacities of the Swiss and Austrian stadiums but said that he had no concerns.
"We have a 40,000-capacity stadium in Basel and a 50,000-seater in Vienna and yes the rest of the stadiums will only hold around 30,000 but I think that is sufficient," he said.
"It is important that these stadiums can also be used for football after Euro 2008 and it makes no sense to have a 50,000 or 60,000 capacity stadium here in Zurich if the average attendance here is usually more like 15,000 or 20,000."
Are you a football fan? Answer a few footy questions and be in the running for a £50 Free Bet. Click here!