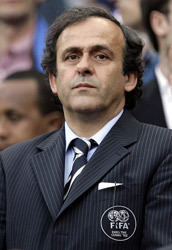 Win FREE tickets to the Cheltenham Festival as well as up to £1,000 in FREE BETS. Click here for more info!
Newly-elected UEFA President Michel Platini has outlined his ideas on his role as European football's leading administrator.
Platini, who defeated Lennart Johansson in last months UEFA presidential elections, told uefadirect: "Although my election as President of UEFA in some ways stirred up the same emotions I experienced when I won major trophies as a player, my new role is more that of a coach, in the true sense of the word.
"My aim is to convince the leaders of European football to share my vision of football. It has been said that my vision of football is romantic or idealistic, but I believe that, in the long term, it is the right way to ensure the survival of our game and maintain its extraordinary popularity.
"We should not be seeking instant reward and selling our "products" to the highest bidder, but making sure that our competitions have as wide an appeal as possible and doing everything we can to guarantee that they are attractive both in terms of the quality of play and results that are not a foregone conclusion.
"Of course, football needs money. It needs it to improve the education of coaches and, through them, the skill of players. It needs money to improve its facilities, to offer players the best possible conditions and spectators a safe and comfortable environment. It also needs money to develop grassroots football and to fulfil its social responsibilities by contributing to youth education.
"On the other hand, football has no use for profiteers, for people who, seeing how successful football is as a business, get involved for their own personal gain. Football has to encourage ideas and knowledge to be shared. It must insist on respect – for opponents and for the referee first and foremost. If it cannot rid society of its ills single-handed, it can at least set an example by promoting solidarity, fair play and fun.
"Naturally, you have to be an idealist to believe that the common interest will prevail over personal gain, that the laws of sport will silence the rule of money, that players, clubs, leagues and associations will speak with the same voice. But being idealistic does not mean dreaming; it means wanting to improve things.
"By electing me as UEFA President, the majority of UEFA's member associations indicated that they were ready for a change. Now it is up to me to be a good coach and to convey my ideas to the rest of the team."

Win FREE tickets to the Cheltenham Festival as well as up to £1,000 in FREE BETS. Click here for more info!