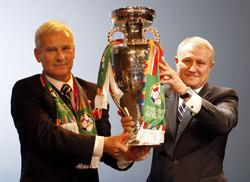 Compare football odds from over 25 bookmakers and claim £500+ in Free Bets. Click here for offer!
Poland and Ukraine have been chosen to host the 2012 European Championships.
It will be the first time that either Poland or Ukraine have hosted a major football championship.
"Finally, the big event is going to the countries which have had no opportunities to improve football," said Polish Football Association chairman Michal Listkiewicz.
"This big tournament will be a milestone in the common history of two Slavic nations."
Ukraine president Viktor Yushchenko promised both countries would host an "extraordinary" sporting event.
"Holding the 2012 European championship will be a wonderful opportunity for Ukrainians and Poles to welcome the best representatives of Europe's soccer family and produce an extraordinary sporting event," he said.
"We will be able to show millions of fans the unforgettable charm of their cities and the history they have preserved so beautifully and put on display of Slav hospitality and culture."
The UEFA Executive Committee reached its verdict after examining the three bids on the final short list to stage the tournament in five summers' time – Poland/Ukraine, Croatia/Hungary and Italy.
The announcement, by Uefa president Michel Platini in Cardiff, came as something of a surprise, with Italy the pre-vote favourites to be awarded the tournament, while the third contender left in the voting, Croatia/Hungary, also had its supporters.
As illustrated by his proposal to limit the number of clubs from each country in the Champions League, Platini is known to be keen to redress the balance of power in football throughout Europe and today's vote has certainly achieved gone some way to doing that.
"Today Poland and Ukraine has been chosen by the Uefa executive committee to host Euro 2012 and they are surely a worthy winner, announced Platini.
"However there are no losers today, rather only bids that have not won this time round.
"I cannot speak highly enough of the effort that has been made, and the passion for football we have seen in all three bids."
Instead, Uefa's 12-man voting panel decided to take the tournament to eastern Europe. Poland and Ukraine won in the first round of voting with eight of the 12 votes, four went to Italy and none to Croatia and Hungary.
The Poland/Ukraine bid had staged an impressive presentation yesterday with Chelsea striker Andriy Shevchenko, Liverpool keeper Jerzy Dudek, world heavyweight boxing champion Vitali Klitschko, former pole vault Olympic champion Sergei Bubka and Ukraine president Victor Yushchenko all making appearances.
Both Poland and Ukraine will stage matches in four venues apiece at the 2012 finals. The projected Polish venues are Gdansk, Poznan, Warsaw and Wroclaw, with Dnipropetrovsk, Donetsk, Kiev and Lvov the host cities in Ukraine.
Read the thoughts of World Soccer editor Gavin Hamilton on today's vote.
Compare football odds from over 25 bookmakers and claim £500+ in Free Bets. Click here for offer!