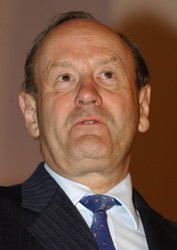 Betting on Football? Click here and generate more money on every correct bet.
Lord Stevens will today unveil the findings of his six-month investigation into corruption within English football.
The Metropolitan Police commissioner has been scrutinising the 362 transfers that took place between 1 January 2004 and 31 January 2006.
Lord Stevens will speak to the media at 16:30 BST, and is expected to propose an overhaul of the transfer system.
It is not thought he will name any of the clubs or individuals involved in the transfers that have aroused suspicions. However, he is expected to ask the Premier League for more time to investigate those deals.
The Stevens inquiry was set up by Premier League chief executive Richard Scudamore after allegations of corruption were made earlier in 2006. Luton manager Mike Newell initially brought the issue into the spotlight in January when he claimed he had been offered bungs (illegal payments).
The issue of bungs was again in the headlines following a BBC Pan Panorama investigation into bungs.
The Football Association has already recommended it strengthens its compliance department dealing with suspect transfers.
But some within would like to see a new rule introduced which stops agents representing both clubs and players. Gordon Taylor, chairman of the players Union (PFA) recommends that the players, and not the clubs, should pay the agents.
"That's exactly how it should be done," the PFA chief told BBC Radio Five Live.
"What's happened with the transfer system is that it has been abused and exploited. Players have certain agents, clubs have certain agents that they have to use.
"If players were to pay agents as happens in other professions it will create a lot of transparency. These people haven't been controlled and they need to come under the control of the game."
Taylor, the Professional Footballers' Association chief executive, did add though that not all agents are corrupt.
"There is money whizzing around in all businesses – that doesn't mean to say everybody is dishonest."
Betting on Football? Click here and generate more money on every correct bet.