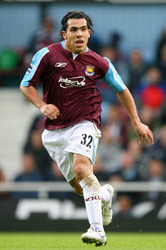 Premier League chief executive Richard Scudamore has confirmed that the league will abide by any ruling FIFA make on the Carlos Tevez affair.
FIFA are still deliberating the issue after meeting with officials from the Premier League, FA, West Ham and Manchester United yesterday.
If FIFA eventually clear Tevez to make his £30million move to Manchester United Scudamore said he would accept the decision.
"A third party, quite frankly, as far removed from this as possible needs to sort it out," Scudamore said.
"That is why it is better for FIFA to determine it. Hopefully, they can adjudicate and they can do it quickly."
Scudamore insists the Premier League are not abdicating themselves of any responsibility for the matter.
"It is not a question of FIFA stepping in," he said.
"The fact is there has to be a point of determination. Given we have been working with West Ham throughout this process, holding them to account for undertakings they made to us, it would be wrong to get into a determination issue between Carlos Tevez and West Ham.
"Yes, this is a high intensity business but when you strip it all down the Premier League is a club comprising 20 football clubs. The whole thing can collapse quite easily if you are led astray by an act of bad faith.
"For eight months now, we have been trying to resolve this issue as well as keeping the rule book in tact. It is quite difficult.
"While there has been pressure of sorts, you just have to do what you think is right given you are starting off from a very bad position where you have been a victim of an act of bad faith."