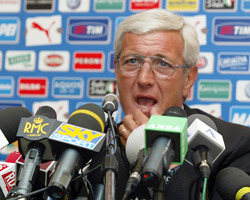 Marcello Lippi's job as Italy coach could be at risk as a result of his relationship with Luciano Moggi and GEA, the firm of football agents run by Moggi's son that has been at the heart of the scandal engulfing Italian football.
Lippi was questioned for three hours on Friday as part of an investigation into the influence Moggi, the former Juventus managing director and the man at the heart of the Serie A match-fixing scandal, is alleged to have had over Italian football.
Moggi is said to have put pressure on Lippi to pick GEA-represented players for the national team and to rest Juventus players for internationals if the Turin club had important club matches the following week.
Lippi is suspected of being a GEA client, a claim which he has denied. Lippi's son, Davide, is also a GEA agent.
When Lippi was appointed Italy coach two years ago, he ignored allegations of a conflict of interest by saying: 'I've told Davide not even to think that I'll ever pick any of his players.' Yet of 63 players called up for Italy duty, nine have been GEA players, including Giorgio Chiellini, who is represented by Lippi's son.
"A movement from the top, which may be political, has decided to push for Lippi to end up in the list of those who, for various reasons, have decided to quit," leading daily La Repubblica wrote on Sunday.
"Lippi at risk," wrote the Gazzetta dello Sport Sunday.
"There's no real proof that he isn't involved in this disaster.
"He's at risk because this is not just an Italian problem. It has become a plaything for the international press and all eyes are on Italians, the sons of scandal."
The front page editorial in 'Il Manifesto' was in full agreement.
"Lippi has got to go," it headlined. "It's the least we can do to restore credibility to our football team.
"If this isn't done, we should all support our first round opponents at the World Cup – Ghana, the United States and the Czech Republic."
A poll over the weekend showed that 85% of people thought Lippi should step down before the World Cup started.