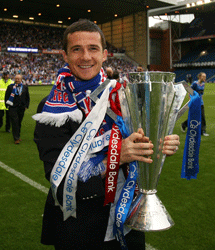 For the second season running, the SPL title race was decided on the final day of the season, only this time it was Rangers who edged out current champions and arch rivals Celtic, to claim their first triumph in four years.
In the end they clinched the title with a four-point gap, finishing with a convincing 3-0 win away to Dundee United – where Celtic had claimed the crown 12 months ago; meanwhile Celtic could only manage a flat goalless draw at home to third-placed Hearts. It completed a remarkable denouement to the campaign, as Rangers had at one point trailed their Old Firm rivals by seven points, and were widely being written off as overly pedestrian and over-the-hill. Moreover, with the run-in further disrupted when manager Walter Smith dropped their long-serving captain, Barry Ferguson and first-choice keeper Allen McGregor, following indiscretions while on international duty, the fates appeared to be siding with Celtic.
The title win marked a personal redemption for Ferguson – cast out into the wilderness a month ago, and looking to have played his final game for the club. In the end, he was deployed as a substitute in the last two fixtures, and the return to favour was complete when he was summoned by his replacement as captain, David Weir, to share in the lifting of the trophy. "Barry has been captain for 25 to 30 games this season and I would not have felt right lifting the trophy myself," explained Weir. "I think it was the right decision and the manager felt it was the right decision. He deserves it." Whether he will still be at Ibrox next season is another question.
The triumph also underlined a change in fortunes for striker Kris Boyd, often maligned and subject of a failed attempt to offload him in a January fire sale, but who yet again finished as SPL top scorer with 31 league goals.
Rangers are now assured an automatic place in the Champions League, avoiding the potential perils of qualification, which saw them suffer a humiliating early exit this season to Lithuanian minnows FBK Kaunas, an all-time European nadir. As well as a chance to exorcise that memory, the guarantee of six games in the group stages will provide a much needed boost to the club's depleted coffers.
Instead, it will be Celtic who will have to navigate the qualification rounds, entering the competition at the second phase; and their task has been made harder by the introduction of a new system, which, should they come through the second round, will see them pitted against a team from one of Europe's heavyweight leagues, Spain, Italy, England, France or Germany in the third and final qualification round.
For Walter Smith, who was at the helm at Ibrox when Rangers completed their remarkable nine-in-a-row sequence of league titles in the 1990s, the latest triumph vindicated his return to the club two years ago, after a successful stint as Scotland boss. In that period he has taken the club to five cup finals, including the UEFA Cup last season, but Celtic's recent dominance of the league has taken some of the lustre off those successes.
Now 61, and thought to be grooming Rangers legend and assistant manager Ally McCoist as his heir, Smith has been swift to quash any notions of an imminent retirement.
"When you get to my age, other people look at you retiring. I plan to go on holiday and then come back and face the Champions League," he said, admitting that even he had been surprised by the reversal of his side's fortunes this season. "We've had a good spirit in our team. I'm pleased for everybody. I felt at the stage in late December when we were well behind Celtic that we would lose out, but we haven't and that's fantastic."
For his counterpart Gordon Strachan, who has, unjustly, never fully been accepted by sections of the Celtic support, despite claiming three league titles in his first three years – it marked the end of his Parkhead tenure. Strachan confirmed his resignation the following day; he will have no shortage of suitors south of the border.