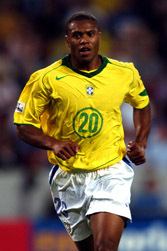 Madrid's director of football, Arrigo Sacchi, believes that the signings of Brazilian duo Robinho and Julio Baptista, will launch a new era for the club.
Sacchi praised the pair, claiming that the signing of Baptista aged 23 and Robinho 21, will ensure the prosperity of Real for a number of years.
"We have signed a very important player, with huge potential and one whom Wanderley Luxemburgo thinks is a perfect signing, both on a sporting and a human level," Sacchi said about Baptista.
"We know that he is a real professional and that is very important because everyone in football knows that your ability rises or drops depending on how you live your life away from the game.
"We think that we have signed a player of a very high level. He will play in a position that we needed someone new to play in.
"Baptista is very powerful, has great technique, he can score goals and has the ability to play in several different positions. I am sure he will be a great success.
"As for Robinho, well, he is incredible, a fantasy player with unbelievable skill. Now we will have to see how he adapts to European football.
"I think he is a player that will bewilder the supporters in the Bernabeu."
Sacchi said the signings highlighted the fact that the club was moving away from its recent policy of signing established stars.
"We are developing a different policy," he added.
"We have also signed Carlos Diogo, who is 22, and only Pablo Garcia breaks the system, but he will give us some great experience.
"The three younger ones are not just players for the present, who can give us so much now, but also they will improve and give us many, many years of great football."