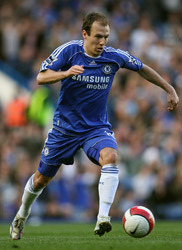 Real Madrid have submitted a bid for Chelsea winger Arjen Robben, according to the player's agent.
The Spanish champions have repeatedly stated their interest in the Dutch international over the course of the summer and have now made a reported £13.5million offer.
However, with Chelsea coach Jose Mourinho adamant that the player was staying, and with Chelsea not needing to sell, the offer may fall on deaf ears.
"I know Real have made a bid to Chelsea for my son," Robben's agent and father Hans told the Sun.
"When you are talking about Real Madrid, it has to be said that it's one of the best clubs in the world.
"Who wouldn't want to play for Real Madrid? My son wants to play at clubs that can win the Champions League and Real Madrid are one of the them."