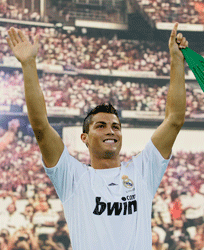 Chris Hughton is the current bookies favourite to replace Roberto Di Matteo as West Brom manager…
Spanish clubs Real Madrid and Barcelona remain in the top two places in the latest Deloitte Money League, published on Thursday.
The top six places in the table remain unchanged with Real and Barca followed by Manchester United, Bayern Munich, Arsenal and Chelsea.
Real have revenues of €438.6m up 9.3% on last year's figures, while both Barcelona and Manchester United recorded improved figures of 8.8% and 7% respectively.
The big movers in this year's list are Manchester City, who entered in 20th place a year ago but have now risen to 11th with revenues of €152.8m million – up 49.5% on 12 months ago.
Roma suffer the biggest drop, with the Serie A side falling six places to 18th with a 16% fall in revenue. Liverpool fall one place to eighth with Spurs up three to 12th.
Stuttgart and Aston Villa are new clubs in this year's list.
Arsenal enjoy the largest matchday revenue of 42% as they enjoy the rewards of moving from Highbury to Emirates Stadium, while in contrast, Juventus bring in just 8% from their Stadio Olimpico games.
Schalke are most reliant on commercial business as that brings in 57% of their revenue, with 20th place Aston Villa just 15%.
The authors said that they had expected to see the full impact of the global economic downturn on clubs during the 2009/10 season.
"We continued to assert that the game's top clubs would be well placed to meet these challenges given their large and loyal supporter bases, ability to drive broadcast audiences and continuing attraction to corporate partners," the report says.
"This was more than borne out by clubs' revenue performance in 2009/10."
The Deloitte review does not include the cost of transfer fees or player wages, or VAT and other sales taxes.
Sources of income include money from ticket sales, sponsorship, merchandising and other commercial revenues, television money, corporate hospitality and non-match day stadium use, such as for conferences.
Deloitte Money League
1 (1) Real Madrid – €438.6m
2 (2) Barcelona – €398.1m
3 (3) Manchester United – €349.8m
4 (4) Bayern Munich – €323m
5 (5) Arsenal – €274.1m
6 (6) Chelsea – €255.9m
7 (10) Milan – €235.8m
8 (7) Liverpool – €225.3m
9 (9) Internazionale – €224.8m
10 (8) Juventus – €205m
11 (20) Manchester City – €152.8m
12 (15) Tottenham Hotspur – €146.3m
13 (11) Hamburg – €146.2m
14 (13) Lyon – €146.1m
15 (14) Marseille – €141.1m
16 (16) Schalke 04 – €139.8m
17 (18) Atlético Madrid – €124.5m
18 (12) Roma – €122.7m
19 (n/a) Stuttgart – €114.8m
20 (n/a) Aston Villa – €109.4m
Last year in brackets
Chris Hughton is the current bookies favourite to replace Roberto Di Matteo as West Brom manager…
Take advantage of the sales by saving up to 36% on a subscription to World Soccer