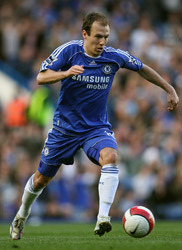 Will England beat Germany? Put your money where your mouth is and click here now
Arjen Robben's father is optimistic the Chelsea winger will become a Real Madrid player before the transfer window closes at the end of August.
Real have been pursuing Robben all summer but have been so far unable to agree a deal with The Blues.
Hans Robben, who also acts as the player's agent, wants his son to join the Spanish champions this month.
"It is possible that Arjen becomes a Real Madrid player, but the situation at the moment is that we do not know if he will remain at Chelsea or play in Madrid," he told AS.
"The period to sign him finishes in ten days and I hope that Madrid comes in to buy my son, but I cannot be sure.
Robben has yet to feature in any of Chelsea's matches this season due to an ankle injury, but his father has confirmed that the player is now back to full fitness.
"My son is ready to play right away because he is totally recovered," he added
Will England beat Germany? Put your money where your mouth is and click here now