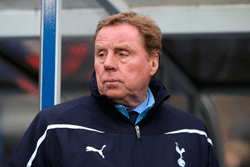 Aston Villa v Man City: Gavin Beech tips the visitors to triumph on Saturday evening – read his betting preview here
Tottenham Hotspur boss Harry Redknapp has suggested that his former club West Ham United would be wrong to move to the Olympic Stadium.
Spurs are in competition with heir London rivals to take control of the Stratford site, once it has hosted the Olympic Games in 2012.
The Olympic Park Legacy Company will receive final submissions from both bidding parties on Friday ahead of a decision next week.
West Ham have confirmed they intend to keep the running track, which was a pledge made as part of London's legacy for the Olympics, while Tottenham have proposed a complete demolition of the site, with a new 60,000 stadium with a pledge to help finance the refurbishment of the National Sports Centre. To complicate matters Crystal Palace announced their intention to move there only this week.
But Redknapp insists that West Ham should not move into the stadium with a running track.
"We keep hearing about the Olympic legacy and the need to have a world-class athletics stadium after the 2012 Games in London," he said in his Sun column.
"But my big fear is that if West Ham move into the stadium in Stratford with a whacking great running track around the pitch, the only legacy for them will be a nightmare.
"It's incredible that the club is even considering taking over the Olympic Stadium and keeping the 400m track intact, putting up an invisible yet insurmountable barrier between the fans and the football.
"Tottenham, my club, also have ambitions to move there because if Spurs want to progress they need a bigger ground – but they have a vastly different outlook on the project.
"I grew up as a player with West Ham United. I played for them and I managed them. I'm not that popular with their supporters these days because I manage Tottenham but I really have a genuine feel for them over this.
"Try to mix football and athletics and you end up with a great big bowl of nothing. Look around the world – most foreign clubs with any sense are abandoning the combination stadium idea.
"Lots of German clubs experimented with it in the past and now they are being dug up and relaid with turf. Stuttgart is one example where the club is moving to a whole new stadium to get back to the traditional layout of a football ground.
"The wind-blown no-man's land between a pitch and the stands can kill football.
"And that's exactly what will happen if West Ham – or indeed whoever – get the keys to the Olympic Stadium in its present state and maintain a red tarmac road right in front of the stands.
"Upton Park was and still is one of the great grounds for atmosphere. These days it doesn't happen so often but on the big nights, especially for cup games, the place can rock.
"In the old days, you would actually see the fans swaying as they sang 'Bubbles' in the old Chicken Run. The only other place in football that could compare to it was Liverpool,when the fans sang 'You'll Never Walk Alone' on the Kop.
"It made an occasion out of a match and was also a formidable weapon against the opposition. Some players used to claim they could feel the fans' breath on their necks as they ran down the wing and it can be very off-putting.
"In contrast, Chelsea used to have a dog track around their pitch at Stamford Bridge and the place really struggled for atmosphere. It was so wide open and any atmosphere evaporated quickly.
"Chelsea now have a tight, compact, steep-sided ground and the atmosphere is much better. White Hart Lane too is now totally closed in and the noise is terrific – among the best in the country.
"West Ham are in danger of throwing away one of their most potent weapons and it would have to be a long throw to reach the fans from the pitch.
"I'm speaking merely as a passionate football person. The decision over who goes to the Olympic Stadium – indeed, if anyone does – is not mine.
"I'm not just banging the company drum for Tottenham here. Even if Spurs do win the race against West Ham to make it their new home, by the time all the development is finished I might not be at the club anyway.
"It's just that in my heart I dread to think what could eventually happen to West Ham if they moved to the main Olympic Stadium and do not heed the warnings.
"I hate going to grounds where there is a running track to get past before you see Subbuteo-sized footballers through your opera-style binoculars.
"And what if West Ham are relegated this season and then find themselves in a 60,000-capacity stadium in a Championship match. Can you imagine? Half the seats would be empty and it would become a desolate graveyard for a once-great club.
"I know a number of Tottenham fans are opposed to a move to Stratford. I can understand that and it's not for me to tell them what's best. It's been their club for years, I've been there for five minutes.
"There aren't too many Tottenham fans in Tottenham, let alone Stratford. But one thing's for certain, the club needs a bigger ground.
"We have 35,000 people on the waiting list for season tickets and a stadium capacity of around 36,000, so we could fill the place twice. To compete with Arsenal, Chelsea, Liverpool and so on, we need a bigger ground. That's undeniable.
"The people working on behalf of Tottenham are doing an honest job trying to grow the club back to where it once was – and where it belongs – among the elite of English football.
"Mine is a simple belief that running tracks and football grounds sit together about as well as putting a swimming pool on Centre Court. Fans from Tottenham should have their voices heard and will do so.
"I hope the same goes for West Ham supporters too. I just worry that if no one sees sense, we'll be too far away from Hammers supporters to hear them ever again."
Outrageous
Meanwhile, Tottenham's plans to demolish the Olympic Stadium has been described as "outrageous", by the chief executive of Newham Council.
The east London borough is a partner in West Ham United's bid to take over the £500m facility after the 2012 Games.
Newham chief Kim Bromley-Derry criticised the environmental and financial impact of the Spurs proposal.
"I think it's outrageous to be honest," he said.
"The carbon footprint created by knocking down such a stadium and building a new one is equivalent to us running our stadium for 93 years.
"It's also a huge waste of public money. We want to put money into the local community, not take it out."
Bromley-Derry contradicted Redknapp's claims about distance between the fans and the pitch by claiming that "no one will be sat further away from the pitch than at Wembley".
"The sight-lines for our stadium will exceed those there," he said. "We refute allegations that this will mean a worse spectator experience.
Although Tottenham will borrow around £200m to fund construction, West Ham will use money from the sale of Upton Park, as well as £40m borrowed from the Treasury by the borough of Newham.
Bromley-Derry added: "We don't see this as a further drain on public money. We're lending to West Ham at commercial rates. It's a significant sum but we're not using any of our revenue budget.
"We've got guarantees for that funding, and we're not basing it on Premier League football. We're absolutely confident we'll get a return on the loan, even if West Ham are relegated. The business case stacks up."
Critics of Spurs' plan say knocking down the stadium would be a betrayal of the London bid's promise that the Games would provide a lasting athletics legacy.
"Ours is a bid about legacy and community," said Bromley-Derry. "Football is key but it's also an opportunity for other sports.
"We're fulfilling the obligations made in London's 2012 bid book. Other bids will struggle to honour these promises. We tick all the legacy boxes. We're confident."
Aston Villa v Man City: Gavin Beech tips the visitors to triumph on Saturday evening – read his betting preview here
Take advantage of the January sales by saving up to 36% on a subscription to World Soccer