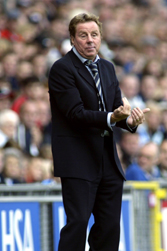 Harry Redknapp has resigned as manager of Portsmouth.
Redknapp denied his decision to quit was due to a row with chairman Milan Mandaric over the appointment of Velimir Zajec as executive director.
"It is something I have been thinking about for a while. I made it without any pressure from the chairman or the board," said Redknapp.
Zajec will take charge of first-team affairs.
At a news conference to announce his plans, Redknapp said he had not made any decisions about his future.
"I will now spend a short period of time to rest, recharge my batteries before contemplating my future," he said.
Milan Mandaric
"I would like to place on record my sincere thanks to the chairman and his board for their support, to the players and all the supporters who have been absolutely fantastic to me and the club during my time at Portsmouth FC."
Redknapp's tenure at Portsmouth has been a huge success. Taking over at Fratton Park in March 2002 he led the club to Premiership promotion the following year. More recently, Redknapp was named manager of the month in October.
However, he has not always seen eye-to-eye with Mandaric.
Last season he threatened to resign when he believed Mandaric was planning to sack Smith and he again said he was considering leaving when Zajec was appointed.
Mandaric praised Redknapp's efforts.
"Harry and I remain great friends," he said.
"I have tremendous admiration and respect for where he has taken this club – a feat several managers before him could not get near to."
"People will obviously make their own minds up and say that Harry has stepped down for the reasons that have been intensely speculated over in the media," he said.
"That could not be further from the truth but then the speculations were pretty wide of the mark also.
"The truth is Harry sees this as a perfect opportunity to bow out."