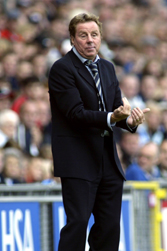 Harry Redknapp has threatened to cease doing post-match interviews if he is punished for his remarks directed at referee Mark Clattenburg.
Redknapp was furious after Clattenburg allowed Nani's controversial goal to stand in Manchester United's 2-0 victory over Tottenham at Old Trafford on Saturday, describing it as a "scandalous" and "farcical" decision.
It is understood that Redknapp's suggestion that Clattenburg "came up with a story" may lead the FA to take action as it may be perceived that he has questioned the referee's integrity, but Redknapp has warned that he will boycott TV interviews if he is punished.
He said: "If I can't come on TV when I do get asked a question and answer it in a truthful manner … am I supposed to come out after and say, 'That was a jolly good decision of Mark Clattenburg's. I thought he handled it very well'?
"We shouldn't be dragged out onto TV two, three, four minutes after a game. I'm getting pulled out of there by Simon the press officer to go on TV. I don't want to go on TV. I'd much rather stay in the dressing room with the players.
"When I'm asked a question, I give a truthful answer. He made a right mess of it all, and that was my answer, and I stand by that 100%."
Asked if he was worried he could face a punishment, Redknapp said: "Listen, good luck to them if they want to. If they want to make an issue of what I said then I'll make some issues as well – don't worry.
"Don't expect me to come out on the TV anymore – ever – and speak to the press after a game, because I won't do it. Otherwise, what chance have we got? If you want me just to come and talk rubbish and say, 'No, it was a good decision – I'm quite happy with it', then don't bother to get me to come out after a game."
Make sure you don't miss any of the last news and articles from World Soccer. Subscribe to World Soccer today and take advantage of our all 50th anniversary offer, saving up to 50%!