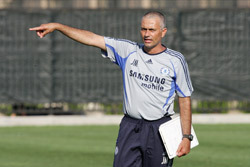 Before each bet make sure you visit easyodds.com to compare odds between bookmakers.
Chelsea will be focusing on picking up three points rather than trying to settle any scores with Liverpool when they meet on Sunday, according to Chelsea coach Jose Mourinho.
The two teams have met 11 times in two years since Mourinho arrived in England, leading to a rivalry among players and a frostiness between Mourinho and his Liverpool counterpart Rafael Benitez.
"It's one of 38 games. If you beat Liverpool and next week you lose against Fulham that's no good.
"The Premiership is about points and points and points, week after week.
"Maybe this match is a little bit more because, if you win, then a direct opponent is not winning points. But overall, it's 38 matches and this is one more game."
Chelsea have had the better of the league meetings, including four straight wins in the Premiership.
However, Liverpool can point to the fact that they won the more significant fixtures, beating their opponents in the semi-finals of the 2005 Champions League and at the same stage in last season's FA Cup.
Liverpool have made a number of signings since last season, when they lost 2-0 at Stamford Bridge in the league, but Mourinho is expecting a similar approach from Benitez's side.
Mourinho said: "Their signings are not my problem. I think they are the same.
"They are a difficult team to play against, a difficult team to beat. Sometimes we do it, sometimes we don't. But by saying they are a difficult team I think I say a lot."
The relationship between the two managers has deteriorated and Mourinho was cool in his response when asked whether he would shake hands with Benitez after the game.
"For me important is the game, is Liverpool and Chelsea, it's not Benitez and Mourinho. I agree with that completely," he said.
"But shake hands? It depends. If it is not with feeling and is just for the picture or the camera, I'm not ready for that. I don't care what people see or say, I don't care about the image – I care about human feelings.
"If the feeling is positive and we realise that in the past some comments shouldn't be made, I'm more than ready for that.
"After the game, before the game, I'm more than ready for that. But in front of the cameras just for the pictures? I'm not the man for that."
Meanwhile, Benítez says that the hostility between the pair has gone too far.
"We will go down there and be his guests on Sunday," Benítez said yesterday. "At the end of the game, I will wait and see if he offers his hand. If he does, then I'll shake it. Not a problem. Normally, when a manager comes to Anfield and comes to see me, I'll welcome him and offer him all the best for the season. If he (Mourinho) wants to shake hands, I don't have any problems with that. I will shake his hand.
"I think that originally we were fine. After the Champions League game when we drew here (at Anfield last September), we started having some problems. The problem has been that, in the build-up to these games, people are always talking about things that have nothing to do with football and, because we talk about this all the time ahead of these games, I think it's now time to stop speaking about it."
Before each bet make sure you visit easyodds.com to compare odds between bookmakers.